Our prayer is that you would be blessed and strengthened by the power of Jesus Christ and that you will live a life of abundance in fellowship, joy and liberty. Forward Christian Center is here for you. We are not just a church. We are a fellowship of believers moving forward together to declare the glory of the Lord and celebrate Jesus as King. We study the Word, practice what we learn and in the process grow together. May God richly bless you!
Tune in as we rewind our notes from past Sunday message, the only time we go back…because we believe that there is only one way to go in God and that is FORWARD!!!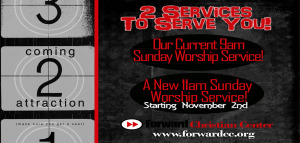 NEW SERVICE TIME BEING ADDED!
Starting November 2nd, 2014 we will be adding a 11am service to serve you!!
So you will be able to join us for 9am Sunday Worship