Sunday Morning Coffee & Conversation 9am-9:30am

Sunday Morning Worship Service 10am

Tuesday Night Interactive Bible Study 7:00pm

Man Cave Every 3rd Wednesday 6:30pm



***********************************************************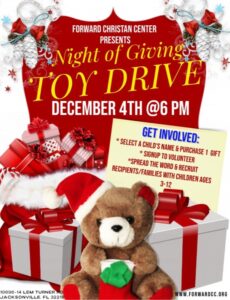 https://form.jotform.com/forwardcc/fcc-angel-tree
To Participate:
1. Parent/Guardian with registered child must be available to pick up the gift on Dec. 4th at the Night of Giving. This event will be filled with games and Christmas fun for all attendees.
2. Registered Child must be of the age between 3-12
Deadlines & Details
1. Registration must be completed & turned in by Nov.20th
2. Once your child's name is selected and gift purchased; the Parent/Guardian will be contacted by a Forward Christian Center staff member.
**With regret, we must inform that this form is not a guarantee that an Angel will be selected for your child/children. If selected, we will contact you once your child's gift has been purchased.
Address: 10696-14 LemTurner Rd
Jacksonville, Florida 32218
For transportation and directions call: 904.374.0620